Sara is in love with her horse Chestnut. The two of them have been sharing adventures since she was 5 years old. For the past two years we vacationed in South Dakota in the Black Hills. We rode to Mount Rushmoor, Harney Peak, Mt Werner, and Custer State Park. We camped on the Grizzly Creek trail for our over night trips. What a perfect place to ride. The trail is a little advanced for young kids and even for some adults but Sara did just fine. Chestnut is a exceptional kids horse and fits Sara like a glove. He is completly devoted to her when she is riding him and loves her attention in the pasture. We are very proud to own him.
Minor and Linda
Minor is my new addition this year. I purchesed him late last year and started finishing him. He is a large 16 hand minimal white overo paint. He is a pleasure to ride with a wonderful lope. He learned quite allot this year. We did many weekend camping trips and our South Dakota Vacation together. He learned to pack myself and gear this year. He was tired in the mountians but the time and work he did will make him a far better horse for next year. We will be going on the weekends next year and an hardly wait to hit the trail.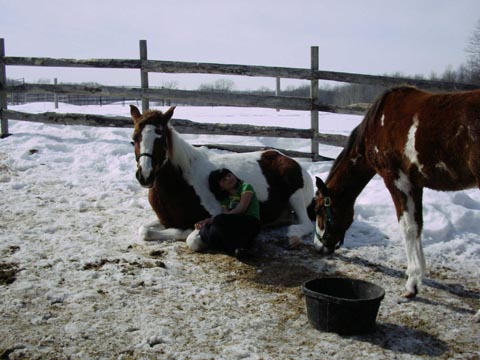 There is nothing better for me than watching Sara and chestnut play and interact with each other. Next to them is Splash. She is a bay and white Overo Paint. She is a yearling in this picture.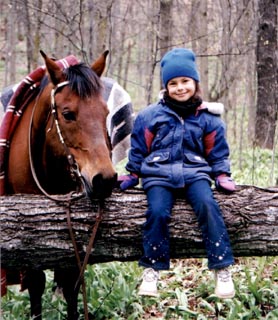 Delight is my 22 year old Quarter Horse who I purchesed as a yearling. He will always be a part of my family. I purchased minor to give Delight a break as I thought the Mountians would be to ruff on him.